Learn Real-World Self-Defense And Master The Art Of Ground Grappling In our BJJ Classes
Whether you're a complete beginner or an experienced fighter, we've got what you're looking for at Miller Martial Arts and Fitness. Our Brazilian Jiu-Jitsu Classes in Bonaire offer men and women a wide range of opportunities to learn this incredible discipline and build real-world self-defense skills in no time.
Take on traditional Gi training or No-Gi self-defense and push yourself one day at a time with the best grappling instruction in town.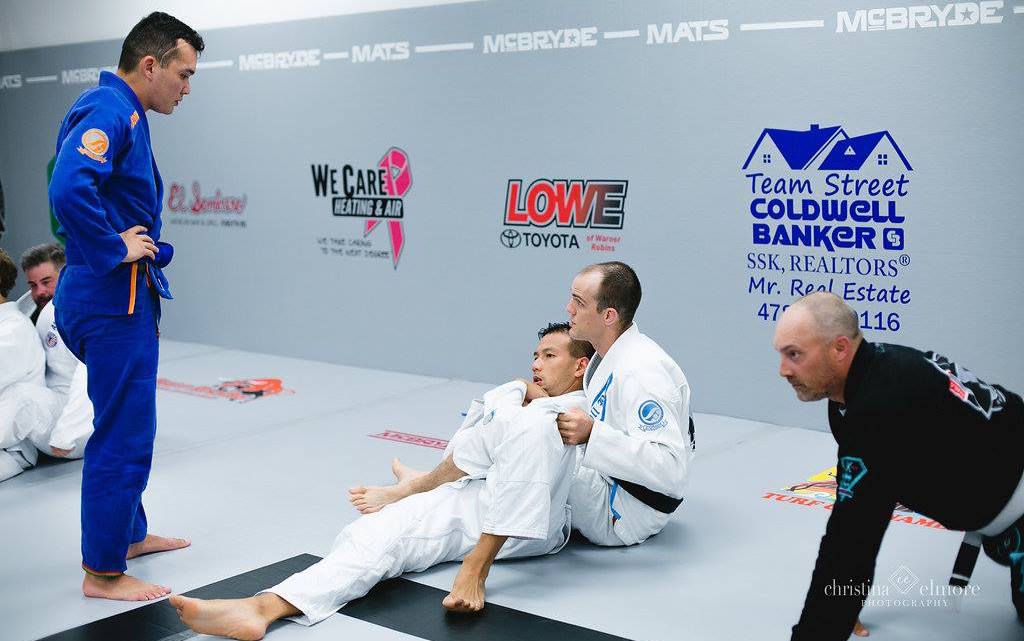 How Does Our Brazilian Jiu-Jitsu Program Work?
For starters, we train everyone. No experience is required. 
Our BJJ Classes are broken down into multiple groups throughout the week so that you can train alongside classmates of similar skill levels and goals.
From day one, you'll learn from the best, with MMA champion Cole Miller leading a team of instructors who are dedicated to your absolute success. Take on competition strategies and real-world self-defense techniques at the same time. It's the best of both worlds!
Our Brazilian Jiu-Jitsu Classes in Bonaire can teach you:
Powerful throws and takedowns
Effective locks, pins, holds, and chokes
How to maintain leverage from any position
Dominating submission strategies

And From Day One, You'll Push Your Body Like Never Before
At Miller Martial Arts and Fitness, you'll learn the best self-defense skills for any situation. But in our Brazilian Jiu-Jitsu program, you'll walk away with so much more.
BJJ is truly a total-body effort that challenges you to establish coordination, balance, speed, and power. With each class, you'll work toward those skills and push yourself like you never thought possible.
The best part is, you won't even realize how hard you're working. As you focus on perfecting every element of the sport, you'll work muscles you didn't even know you had.
You can take on:
Total-body muscle toning
Sustainable fat burn and weight loss
Improved athleticism and agility
Incredible self-confidence in everything you do
Don't Miss Out! Join Us In Bonaire For The Best BJJ Classes Around!
Learn from the best and walk away with the results to prove it at Miller Martial Arts and Fitness. Our Brazilian Jiu-Jitsu program is helping everyday men and women look great, stay safe, and accomplish their goals one day a time.
Fill out the short form on your screen to learn more about everything we have to offer in Bonaire!
Place was awesome! Cole and everyone there treated you like family while providing us with top notch knowledge. If you live in the area, I highly recommend giving this place a try. Can't wait to come back!
Cole is a true professional and a great person. Great environment, great teaching. I would give it 6 stars if I could.
My daughter loved her class! I enjoyed my pre- striking session this morning! We are excited to start up!!
Technique focused training at its best. Not to mention the amount of amazing martial artists and guests that drop in to share their knowledge on a regular basis. Cole is the man!!!! HIGHLY recommend this gym and I have trained at several for the last 10 years.
Cole Miller is a legend! He is a gift to the Mixed Martial Arts community in Middle Georgia! No matter if you are a beginner interested in self-defense or possibly going professional, he has everything you need. Also, he oftens has seminars hosted by top notch UFC athletes and BJJ Grapplers!
TRY US FREE!
If you're not sure whether martial arts are for you, come on in for a free class. We guarantee you'll fall in love. Click on the button and fill out the form, we'll send you the information on how to redeem your free class.
Sign up for our newsletter and always stay in the know.
00
Sign up below and we'll send you updates on classes, any deals and specials we have going on, updates on our pro shop items and any amazing events and seminars we'll have. We'll never send you spam and we'll never sell your information.